India
Cases and deaths increased in the country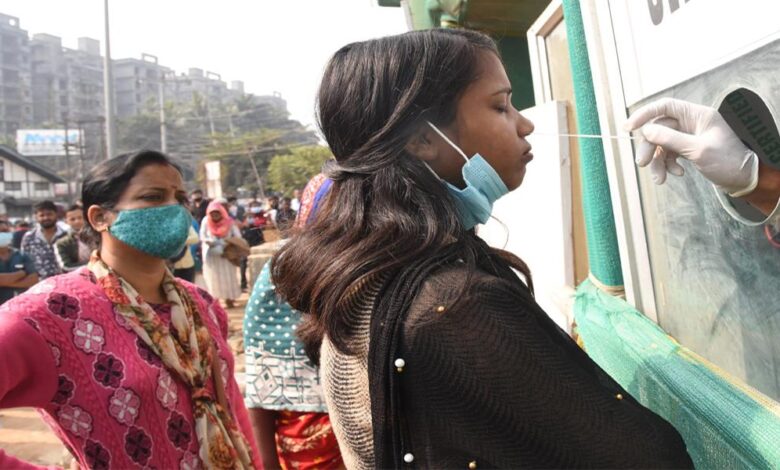 New Delhi. In the third wave of corona virus, once again the crisis in the whole country seems to be deepening. The infection has increased across the country and the death toll has also increased in every state. in the national capital Delhi on Tuesday 23 Infected patients died. This is the highest number in the last six months. Delhi in last three days 57 Patients have died. Earlier in the four months between September and December 20 Patients had died. The death of the number of patients who died in four months has been recorded on Tuesday alone. in Delhi on Tuesday 21,252 new patients found and infection rate 25.65 Percentage was
It is a matter of relief that the number of infected in the country's financial capital Mumbai decreased for the fourth consecutive day. in Mumbai on Tuesday 11,647 New patients were found and two people died. Infection rate in Mumbai on Tuesday 18.75 percentage was, which four days ago 30 Percentage reached. On Tuesday in Uttar Pradesh, the country's largest and most polluting state. 11,089 New cases found. In Uttar Pradesh on January 5 1,985 New cases were found i.e. the number of infected has increased six times in the last seven days.
in Maharashtra on Tuesday 34,424 new cases found, who met on monday 33,470 A little more than cases. in the state 22 people also died, Whereas only eight patients died on Monday. In the election state of Punjab 4,593 New cases have been found and nine people have died. in Bihar on Tuesday 5,908 Patients were found and five people died. a day ago in the state 4,737 patients were found. in West Bengal 24 in the hour 21,098 patient and 19 People died. in Karnataka on Tuesday 14,473 New patients were found and five patients died.
There was a big increase in the number of infected in Kerala on Tuesday and on Monday 5,797 compared to Tuesday 9,066 New infected found. in the state 19 People died. in Haryana on Tuesday 5,743 New cases were found and three people died. in Jammu and Kashmir 24 in the hour 1,148 New cases found. In the poll-bound state Goa on Tuesday 2,476 New patients were found and four people died.
The total number of corona infected had reached above one and a half lakh till the time of writing the news. By late night it will increase further as the numbers of many states were not updated. On Tuesday, for the fifth consecutive day, there was an increase of more than one lakh in active cases. By the time the news was written, the number of active cases in the country had increased to close to nine and a half lakhs.