India
I am a girl, I can fight, but will Priyanka herself fight?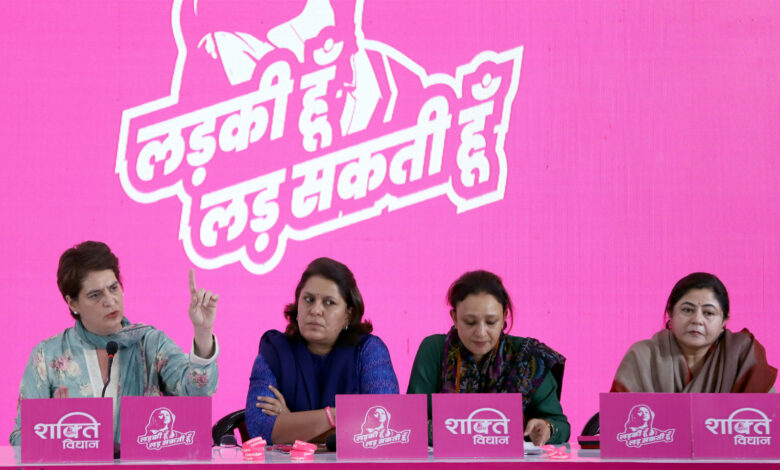 Lucknow. Congress General Secretary Priyanka Gandhi has made every effort to make the Congress party stand on its feet after visiting the districts in the last two years. In this sequence, through the slogan 'I am a girl, I can fight', Priyanka Gandhi also played the stake of cultivating half the population i.e. women. And in this assembly election, by announcing 40 percent women tickets, the politics of UP heated up. But now Priyanka Gandhi, who talks about giving tickets to 40 percent women in UP, will contest elections in UP? This question is now being asked to him only. Priyanka Gandhi has also been asked questions on this issue many times, but Priyanka Gandhi is giving round-the-clock answers on her own contesting elections in UP. Not making any clear announcement. Whereas now the election has been announced. In such a situation, it is now being discussed that Congress's 'girl, can fight' campaign is for others? And Priyanka Gandhi has distanced herself from her slogan of 'Ladki hoon, lad sakte hoon', now Congress will enter the election field without any big face.
At present, no big leader is ready to speak anything to the Congress in this matter. Congress state president Ajay Kumar alias Lallu, senior Congress leader Pramod Tiwari or Priyanka Gandhi's PA Sandeep Singh, falls silent on the question asked about Priyanka Gandhi contesting elections in UP. Whereas these leaders know that every political party in UP has a big face in UP. The Bharatiya Janata Party (BJP) is contesting the election on the face of Chief Minister Yogi Adityanath. SP Akhilesh Yadav, BSP Mayawati and RLD are in the election field on the face of Jayant Chaudhary, but Congress is losing in this matter. Although everyone is aware that Priyanka Gandhi has made the slogan 'Ladki hoon, fight sakti hoon' the basis of Congress's election campaign.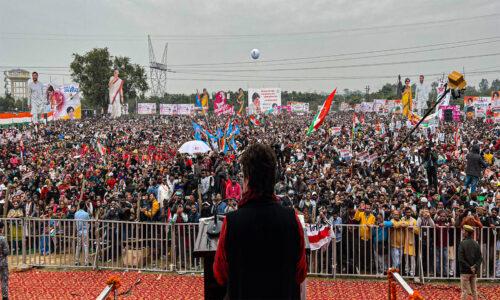 Read also Security: Why poor politics?
She has also made preparations to give tickets to women by announcing tickets to 40 percent women candidates, but Priyanka Gandhi herself is not coming forward to contest elections in UP. She is neither telling that she will contest elections in UP nor is declaring that she will not contest elections. This stand of Priyanka Gandhi is weakening the basis of Congress's campaign for women's empowerment in UP. Now that the elections are very close, then the questionable answers given by Priyanka Gandhi about contesting the elections will not work. He will have to openly tell what is his decision to contest elections in UP. Senior journalist Girish Pandey says that Priyanka Gandhi is the top most acceptable face from Congress in UP. If Priyanka decides to enter the electoral battle, Priyanka Gandhi's clean image could be beneficial for the Congress. And if she distances herself from contesting elections, Priyanka Gandhi's slogan 'Ladki hoon, lad sakti hoon' will prove to be a hoax for the Congress and for them.
Perhaps Priyanka Gandhi is also aware of the discussions about the Congress among the public. Priyanka Gandhi, who is playing the role of troubleshooter for Congress, wants to see Congress as a strong party, which has been in exile for more than three decades, but for this she herself is not able to dare to contest from UP. This is the reason why whenever Priyanka Gandhi is asked this question whether she will enter the electoral battle of UP assembly elections 2022? So, every time the same answer is received from their side that it will be decided by the top leadership of Congress. Girish Pandey says that this answer of Priyanka causes doubt. When top leadership in Congress means Gandhi family only, then who can stop Priyanka Gandhi from contesting elections? It seems that Priyanka Gandhi wants to avoid the stain of poor performance of Congress in the 2022 UP elections with the help of this answer. Because, Congress does not seem to be convinced from anywhere about its performance in the UP elections.
In the last elections, even after allying with the SP, the Congress got only seven seats. This time the Congress is fighting the elections alone, so will the Congress get the seats it got in the last assembly elections in this election? So far no such claim has been made in any election survey. Maybe that's why Priyanka Gandhi is not ready to contest the UP assembly elections. According to Girish Pandey, even though the Congress could not perform very well in the UP assembly elections, but Priyanka Gandhi's announcement of contesting the assembly elections would have energized the Congress organization. But now it is becoming clear from the indications about Priyanka Gandhi not contesting that Priyanka Gandhi's slogan 'Girl Hoon, Lad Sakti Hoon' will prove to be a hoax for Congress and them.